Let's face it – tackling a home remodeling project can be a considerable undertaking, and figuring out whether to DIY it or use a general contractor can be challenging. With all the options out there, deciding between defending the fort with DIY or leaning on a professional is daunting. Fear no more! In this post, we'll explore the advantages of DIY and hiring a contractor, along with considerations that should factor into your decision-making process. So if you're feeling overwhelmed and unsure which route to take for your next home remodel, this post is for you!
We are general contractors at Classic Remodeling NW, Inc., dealing with new home construction and home remodeling projects in the Seattle, Eastside, and Everet, WA area. With over a decade in the industry, we have a reputation for a transparent process, a detail-oriented approach to construction, and a commitment to high-quality workmanship. 
Quick Definition
DIY projects often save you money in the short term but may take longer and require additional tools or skills. Hiring a professional general contractor ensures the job is completed efficiently and to high standards, but it can cost more in terms of labor requirements.
Comparing the DIY vs. Professional Home Remodeling by a General Contractor
When deciding if a do-it-yourself home remodel is the best option for you or hiring a professional contractor, there are several factors to consider. Home remodeling can be overwhelming and expensive, so evaluating each approach's pros and cons is essential.
For do-it-yourself home remodels, the benefits are obvious: the cost savings of not hiring an expensive contractor. And if you're up for a challenge, DIY projects can be gratifying. However, it's important to be realistic when considering taking on a project like this—most experienced contractors have years of experience that amateurs don't have. Even if you have some basic knowledge or experience in construction or carpentry, projects like this require specialized skills that may exceed what you know. Furthermore, depending on the project's scope, permits or other legal documents may be required for certain aspects of which you may not be aware.
Hiring a professional contractor comes with its own set of advantages as well. The most important is that working with someone who has years of experience in the field means that they will better understand the details involved in building codes and requirements. In addition, you'll have access to experienced laborers and designers who can help develop creative solutions for problems that may arise during your renovation project. Of course, when hiring professionals, you'll incur additional costs, but these costs only sometimes outweigh the potential problems of tackling a large project yourself.
One of the benefits of working with a general contractor is access to experienced laborers and designers who can help come up with creative solutions for any problems that may arise during your project. Our team of skilled professionals at Classic Remodeling NW, Inc. will work closely with you to ensure that your vision is brought to life that meets your expectations. While hiring professionals may incur additional costs, the potential problems arising from tackling a large project yourself often outweigh the extra expense. By working with Classic Remodeling NW, Inc., you can rest assured that your project will be completed to the highest standards of quality and craftsmanship, attention to detail, and a focus on customer satisfaction. With years of experience in the field, our team of experts deeply understands building codes and requirements, ensuring that your project is completed in compliance with all relevant regulations.
Whether or not to choose DIY vs. professional home remodeling should come down to the time commitment needed. It is essential to weigh all the pros and cons before deciding and determining what level of effort and skill you are willing to commit to preserving the aesthetic vision for your home remodel. So in our following section, we will discuss "Time Commitment Needed" when deciding on DIY vs. professional home remodeling.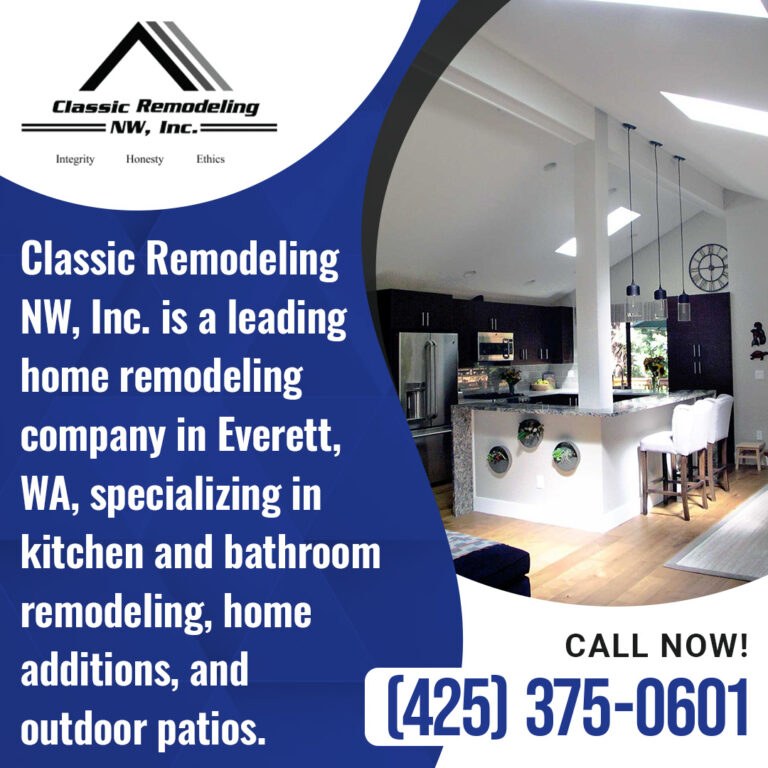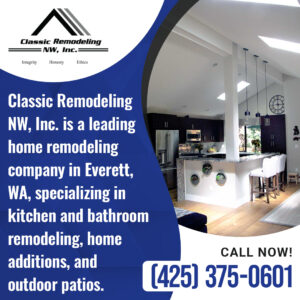 Most Important Highlights
When considering a DIY home remodel vs. hiring a professional contractor, it is crucial to consider the pros and cons of each approach. Do-it-yourself home remodels come with potential savings but may require more knowledge or experience than the homeowner. Hiring a professional contractor can come with advantages, such as access to experienced laborers and an understanding of  building codes and requirements. Ultimately, both approaches require a time commitment, and weighing the pros and cons is essential.
Time Commitment Needed
When considering the commitment to remodeling, there are two distinct options: DIY or a general contractor.
For those who prefer the DIY approach, it is essential to note that this decision will require a substantial amount of time and effort. DIY projects are often lengthy and must also be completed with care and precision. If you have never taken on a major home remodeling project before, it is important to consider how much time you realistically have available each day (and week) to create your dream home. Many decisions will require intensive engagement, from creating the plans and design to selecting materials and construction.
Hiring a general contractor for your home remodeling can offer a reprieve from the time commitments associated with do-it-yourself projects. Our professional team of experts is dedicated to handling all the nitty-gritty details, allowing homeowners to focus their energy on other important areas of their lives.
While working with a general contractor can help to alleviate some of the time commitments associated with home remodeling, it is still important to set aside adequate time for meetings, approving plans, and engaging in meaningful conversations about any changes or delays. A successful partnership between the homeowner and the general contractor requires a mutual commitment from both sides. We work closely with our clients to ensure that everyone is on the same page throughout the project.
Before signing any agreements or contracts, you must consider how much you can commit to the project. Our Classic Remodeling NW, Inc. team is committed to providing our clients with a high level of communication, transparency, and reliability throughout the remodeling process.
No matter which route you choose, understanding the genuine commitment – labor and attention – before taking on any major project is essential for success. After all, it takes time and patience to turn a house into a home, no matter who's doing the work behind the scenes! With this in mind, budget constraints should also be considered when planning any remodeling job.
The next section of this article will discuss budget constraints when weighing between DIY vs. hiring professionals for home remodeling, looking at both sides of the argument carefully when making financial decisions related to creating your dream home.
Budget Constraints
Budget constraints are among the most significant considerations when deciding between DIY and general contractor home remodeling. Hiring a general contractor can be expensive – depending on the size and scope of the project. Researching local contractors, obtaining quotes, and reviewing contracts are all needed before starting a project. Hiring a contractor might require homeowners to pay for permits or hire additional tradespeople, such as electricians or plumbers. These costs must be considered when assessing whether a DIY or professional approach is more cost-effective. At Classic Remodeling NW, Inc., the price that we quote you on our proposal is the price you will pay us. We also provide our customers with a three-year guarantee instead of the industry standard of one year.
On the other hand, DIY projects have their own set of expenses. Materials must be purchased to complete a project, which can quickly add up. Homeowners may also need special tools that require rental costs or investments in equipment ownership. If mistakes are made during any stage of a DIY project, the homeowner can spend even more money to fix mistakes or hire professionals to help with extra tasks.
Either approach can work within a budget, depending on the scope of work and resources available to the homeowner. To ensure success when considering both methods, homeowners must assess their skills and resources, such as time, budget, and materials needed.
Considering the Tools and Materials Required
When deciding whether to undertake a home remodeling project yourself or hire a professional general contractor, it's essential to consider the tools and materials required. Some DIY projects may be completed with limited supplies: for example, repainting a room requires just paint, brushes, and rollers. However, more complex tasks like plumbing installations or crown molding often require special tools that may not be available to the average homeowner.
Proper tools and materials are necessary to complete any design-build or home remodeling project. Our team has access to high-quality supplies at lower costs due to our relationships with various suppliers, ultimately saving our clients time and money.
While having access to the proper tools and materials is essential, ensuring quality workmanship requires experience and a high skill level. Understanding the amount of work and material necessary to complete a project requires years of experience. Our Classic Remodeling NW, Inc. team has a wealth of knowledge in this area and can provide our clients with accurate estimates, minimize waste, and avoid unnecessary costs.
We understand that DIY projects are an excellent way to save money. Still, homeowners need to understand what tools or materials are needed and how much is required to do excellent work. In the end, hiring a general contractor with the necessary experience and expertise is the best way to ensure the success of your home renovation project.
Considering the tools and materials required when embarking on a home remodeling project is critical to ensure quality results while avoiding unnecessary costs. But before starting any project, it is equally important to analyze the skills needed by homeowners taking on a DIY job and professionals hired as general contractors. The following section will discuss this point in further detail.
Analyzing the Skill Level Needed
When considering DIY vs. hiring a general contractor for home remodeling, first analyze the necessary skills required to complete the project. Many people think themselves capable of taking on a homeowner remodeling project but then underestimate the intricacy of the work. Remodeling can require different skill sets, such as plumbing, electrical, carpentry, tiling, and other specialized trades. However, contractors strive to complete all these tasks in-house or hire subcontractors they trust – eliminating the need to hire multiple individuals with varying specialties.
At Classic Remodeling NW, Inc., we strongly recommend hiring a general contractor for your home remodeling project because of the many benefits that come with their experience and expertise. Our team of professionals has extensive knowledge in all renovation areas and can easily tackle any challenges. Our expertise allows us to manage unexpected challenges and cost overruns while ensuring compliance with local building codes for safety and aesthetic considerations.
When it comes to DIY projects, a lack of knowledge or experience can lead to costly mistakes that could have been avoided with the help of a professional. The cost of hiring a general contractor is well worth it for the peace of mind that comes with knowing experienced professionals are managing your project. Our Classic Remodeling NW, Inc. team is dedicated to delivering high-quality workmanship that will exceed your expectations.
However, some projects are relatively simple enough for even inexperienced homeowners to tackle without external help. If minor repairs need attention or someone is willing to learn a new task and devote extensive time researching it, then completing the project might be an option worth considering. Additionally, DIY projects can result in significant cost savings depending on specific circumstances – such as knowing local sub-contractors with very competitive pricing or already having most of the necessary tools.
Thought should be given to whether one's particular situation requires more skill than one possesses before embarking on any project solo. Quality vs. cost should also be considered before deciding between DIY and hiring a professional contractor.
Weighing Quality vs. Cost
When choosing a general contractor or going the DIY route for home remodeling, it's vital to weigh quality vs. cost.
If you are strictly focused on price, then opt for DIY, as this will generally be the least expensive choice. With DIY, you can source materials and tools at lower costs and not have to pay multiple people to do different types of work. However, while you may save money, the quality of your finished project could suffer due to a lack of experience and skills that come with the services a general contractor would provide. A professional contractor would guarantee the job is done correctly, which could save money in the long run if something were to go wrong owing to amateur DIY tasks gone awry.
Hiring a general contractor like Classic Remodeling NW, Inc. offers homeowners a higher quality result for their remodeling projects. While it may come at a higher cost than a do-it-yourself approach, this is because our team brings a wealth of experience and expertise to every project. As licensed professionals, we understand industry standards and regulations better than most homeowners, which helps to mitigate additional stressors such as obtaining permits and scheduling unforeseen roadblocks. Our team has access to high-quality materials and tools necessary for a successful and beautiful renovation. So while the cost may be higher, the peace of mind and guaranteed quality are worth it.
In either case, it's crucial to understand how much personal responsibility you're willing to undertake to balance quality vs. cost before moving forward with either option. Regardless of the route chosen for your home remodeling project, essential components must be considered to safeguard your process next.
Safeguarding your Home Renovation Process
When going through the renovation process, it is vital to safeguard your home and the people remodeling it. Some steps can be taken to ensure your project remains safe and within budget, whether you decide to go the DIY route or hire a general contractor.
Safety precautions must be taken if you're planning a DIY project. This means researching and learning the proper procedures for using power tools and ensuring that anyone helping with the project has the necessary safety gear (e.g., protective eyewear and gloves). Always double-check building codes for your area before beginning any project. It is also essential to have an expert on hand in an emergency; a contractor can provide helpful advice when needed.
The experts at Classic Remodeling NW, LLC. understand how crucial it is to feel secure throughout your home remodeling project. You have the added confidence of measures that assist protect you and your property when you work with a qualified general contractor. To protect any workers hurt on the job, our staff is covered by workers' compensation insurance. Also, your property is covered by general liability insurance in case any accidents happen while we are renovating it. You can be confident that we are familiar with local regulations and requirements because our company is  licensed to carry out home renovation projects in your area. To ensure that you are employing a trustworthy general contractor with years of experience in the business, we advise you to look at our evaluations and references. We take great pride in our reputation.
All in all, it is crucial to safeguard yourself and your home by taking preventative measures before beginning any home improvement or remodeling project – regardless of whether you are doing it yourself or hiring a professional contractor. After establishing how best to protect your project moving forward, the next step is making the final decision: DIY or hire a general contractor.
Making the Final Decision: DIY or Hire a General Contractor?
When deciding between DIY and hiring a contractor for home remodeling, it is important to weigh the pros and cons of both options. For some projects, DIY may be a great way to save money and get creative with design ideas. On the other hand, contractors often bring their expertise and knowledge of materials to ensure a job is done correctly by someone who knows what they are doing.
If you are comfortable with the skills needed to complete the work, DIY can be a great way to save money and customize your dream renovation project. The cost saved from not hiring a contractor will depend on your abilities and competency in the project type. Furthermore, depending on the project size, having friends and family help could significantly reduce the time spent completing the project.
However, many homeowners hire a general contractor because of their knowledge of technical issues, liability insurance covering disasters, and specialized access to resources that would otherwise be unavailable, such as materials or equipment. A professional contractor also brings experience, such as troubleshooting problems or ensuring safety standards are up to code, which can save time and energy during remodeling.
As a professional contractor with years of experience, Classic Remodeling NW, Inc. brings technical knowledge, liability insurance, and access to specialized resources essential for any remodeling project. Our team is well-versed in troubleshooting problems and ensuring that safety standards are up to code, saving you time and energy.
Finally, homeowners should consider their capabilities and research different contractors to make an educated decision about which option is best for them. Do-it-yourself remodeling can be satisfying but demanding, while contractors can come at a higher cost but guarantee quality service. Ultimately, each homeowner has to decide which option is best for them based on their budget, skill level, and desired outcome.
Frequently Asked Questions and Answers
Are there any cost savings associated with DIY versus a general contractor?
DIY can save costs compared to hiring a general contractor, as the homeowner would not need to pay for the contractor's labor and overhead expenses. But a lack of experience or knowledge in the specific tasks involved can lead to mistakes and potential cost overruns. In some cases, errors may be costly to fix, and the final result may be different than a professional contractor could achieve. A contractor may have access to better pricing for materials and tools, which can offset some of the costs of their services. Ultimately, whether DIY or hiring a general contractor is more cost-effective will depend on the specifics of the project and the individual homeowner's skill level and available resources.
What qualifications should I look for when choosing a general contractor?
A general contractor should have the required licensing and qualifications necessary to complete the work. Make sure they have references and reviews from previous jobs so that you can get an idea of what their past work was like. When meeting with them in person, ask questions about safety protocols, budgeting, and communication methods. Finally, they should be insured to protect themselves if anything goes wrong.
In conclusion, when deciding between DIY vs. a general contractor for home remodeling projects, homeowners should carefully weigh the costs and benefits of each option while considering the possible liabilities involved in making such a decision. Choose an experienced and licensed general contractor when working on large or complex projects due to the protection offered against potential liabilities both now and down the line.
Why Classic Remodeling NW, Inc. is the Top Choice Among General Contractors in Everett, WA
Classic Remodeling NW, Inc. is the leading home remodeler in Everett, WA, providing best-in-class remodeling and renovation services for over a decade. We have a network of happy and satisfied customers who trust us because of our expertise and knowledge in home remodeling, new home construction, and custom home building. We are a general contractor specializing in high-quality home remodeling, including full bathroom and luxury kitchen renovation, outdoor patio, and home additions. Every project is manageable for us, and we have a skilled, trained, and experienced team to deliver exceptional results. If you are looking for a general contractor in Everett, WA, that will provide a quality home remodeling project, contact Classic Remodeling NW, Inc. online or over the phone at (425) 375-0601.